Was it her enchanting yet serious face, her dark aura tinted with mystery, or her tragic actress silhouette that seduced John Galliano? In any case, Eva Green will incarnate the new perfume from the house of Dior: Midnight Poison. The name fits her like a glove and strangely fits with her next role in The Golden Compass.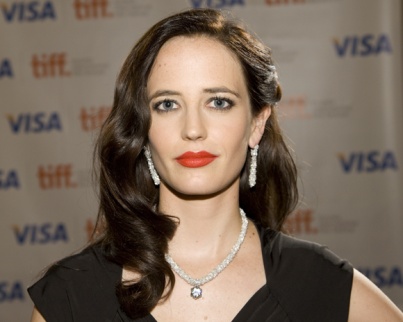 She will play a magician with evil powers, a dark and complex character whom she finds intriguing. She is known to say that she is attracted to rich, elaborate, i.e. complex roles. The new ambassador of the latest Dior perfume has come along way since she appeared nude in Bertolucci's film.
When a journalist asked her some time ago if she would be tempted by an invitation to collaborate one of the big designers, Green seemed to find the idea ridiculous because she does not see herself as that kind of star. She defines herself as a "negative narcissist," always seeking the approval of others and self-confidence.
It is difficult to imagine her timid or unsure of herself when so many film directors have entrusted her with important roles in their major films. Bertolucci made her into one of his muses (on the same level as Liv Tyler), and gave her an uncompromising role in Dreamers. Green, at the time a young actress, accepted the role and threw herself into it, exploding on the screen.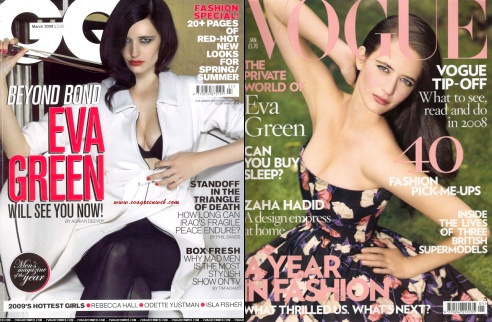 Later, it was Ridley Scott who revealed her to the general public in Kingdom of Heaven where she worked closely with the best of American cinema, including Liam Neeson, Edward Norton and Orlando Bloom. She played the queen of Jerusalem with grace and maturity. Then came Casino Royale where she was chosen over Charlize Theron.
It was at this moment that her career really took off. Whatever would follow, she would have already entered into the very exclusive stable of the James Bond girls. Green is far from playing a pretty accessory; she accepted the role of Vesper Lynd because she is Bond's equal and not his plaything. That is the way Green is -- she knows what she wants and she gets it, and no one will make her come off as something she is not.
But who is Eva Green, really? A daughter of someone famous? Not so simple. Of course, her mother, Marlène Jobert, was a (French) star in the 1970s, but Green's success is not just a result of her heredity. Green wanted to study theater from a very young age. She enrolled in the (Paris acting school) Eva Saint Paul and for three years, studied the basics.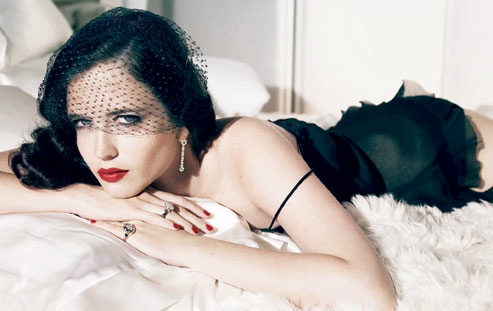 Her mother watched her progress closely and gave her a lot of advice. Green knew that she did not want to follow the same career as her mother, however; she saw herself as more cerebral, more tragic. This explains her rare appearances later on (she made about one film per year). She continued to study in England at the Weber Douglas Academy of Dramatic Art.
She realized that above and beyond the desire to be on stage, being an actress was a necessity for her. It allowed her to exist, to express herself and to channel her emotions. She did theater in France, and was even nominated for a Molière for her role in Jalousie en trois fax. Then her path crossed that of Bertolucci and the rest is history.
Despite her close relationship with her mother, Green decided to live in London,. She needed to put some distance between them. Concerning her roles, however, she always asked for her mother's advice and they worked together in order to come up with the best interpretation possible. She is also still in contact with her former professor, Eva Saint Paul, who helps her to grow and prevents her from resting on her laurels.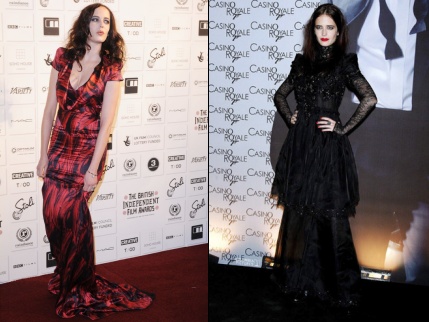 In Casino Royale, James Bond admits to having fallen in love with an enigma by falling in love with her. This line fits Green perfectly and is surely the reason that the role appealed to her so much. She was neither perfect, nor too smooth; in Hollywood, she is regarded as an extraterrestrial - she is different, sometimes inaccessible, and distant.
And yet, Green sees herself as a very normal person. When she is not working, she likes to read, cook (even if she is very careful about her figure - she runs every morning before breakfast!), and wander around the markets. London is her adopted city and she feels good there; she can have a private life and a professional one without difficulty.
Is Green normal then? Not if we are to believe the president of Christian Dior who described her as follows: "[Eva Green] possesses that triumphant femininity that is the quintessence of the woman we love at Dior." Her new commercial for Midnight Poison will come out in September. Directed by Wong Kar Wai (who also presented Blueberry Nights at the last Cannes Film Festival), it is sure to be entertaining.
This will be the first time that the actress' face will be used commercially in the luxury world. As for fashion, she says she likes Jean Paul Gaultier and Alexander McQueen. Not surprising, given the effect she has on the red carpets when she shows up in long, mysterious gowns... exactly in the McQueen spirit. In any case, she will have to start wearing Dior...
By Coco in
Icons