Dakota Fanning, Hollywood's little girl, has recently come out of her cocoon transformed into a ravishing adolescent. The young actress brings together better than anyone else teen allure and devastating charm.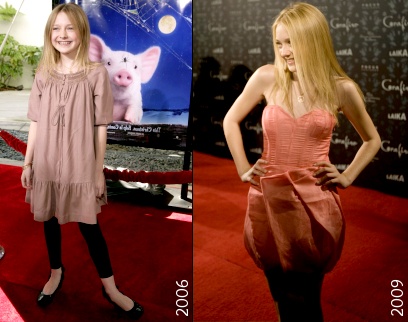 Fanning was the youngest actress (at age 7) to be nominated for a Screen Actors Guild Award for her interpretation with co-star Sean Penn in the film I am Sam (2001). Her talent revealed itself very early, quickly putting her in front of the camera.
She was only 6 years old when she began appearing in advertisements, theater plays, and television series. Her fragile face, her intense look and her ability to enter into a character literally astounded the Hollywood community who started offering her big budget films.
At an age when her daily routine should have consisted of spelling lessons, playtime in the park and birthday parties, Fanning was participating in the biggest moments of American cinema with the likes of Robert De Niro, Denzel Washington and Tom Cruise. The entire world fell in love with this impish little girl talented beyond her years.
However, like other actresses who began very young, e.g. Scarlett Johansson and Natalie Portman, and who succeeded regardless in preserving a certain intimacy, Fanning remained very discreet. Outside her appearances for her film premieres (where she was seen as a nice, sensible little girl in her Sunday best), she grew up far from the media's probing eyes.
This is exactly why when Fanning suddenly appeared transformed into a young lady jaws hit the floor. She who was recently seen dressed as a little girl in flat shoes and childlike smile had become a slender young woman in heels and strapless dresses. Contrary to Hayden Panettière who has yet to find the happy medium style between adolescent and woman, Fanning has succeeded in finding the right look allowing her to transition physically into a young woman while remaining fresh and mischievous.
Although she has just entered the exclusive club of actresses whose looks are dissected after every appearance, she is making out rather well. In the city, she remains a normal adolescent in skinny jeans, leather jackets and ballerinas, whereas on the red carpet she is just at ease in a chic little black dress, well accessorized, all the while preserving a natural and refreshing look.
At almost 15 and after having already conquered Spielberg, this young blond seems ready to take on the big designers.
By Coco in
Icons