John Galliano cannot praise her enough, Alexander Wang loves her peanut butter cookies, and Anna Wintour gives her the best pages in Vogue U.S. At only 17, Karlie Kloss has the entire fashion intelligentsia at her feet.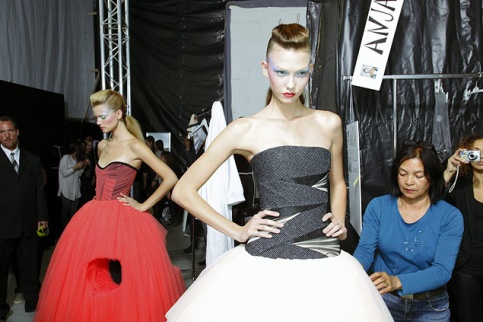 Tyra Banks may have made fun of Kloss' particular walk, but she seems to be the only one to doubt the potential of this young girl from Illinois. Ever since she was scouted at 14, Kloss' value has only gone up.
As a child, Kloss dreamt more of becoming a ballerina than a model. Despite her height, she studied classical dance from a young age at Caston's Ballet Academie. The chance to model changed her plans, however. At the moment when she joined her school's ballet company, Elite opened their doors to her. In the end, the teenaged Kloss preferred the pages of Teen Vogue to her arabesques.
Calvin Klein, who perhaps saw in her a reincarnation of Kate Moss, was the first to have her walk exclusively in New York in September 2007. After having also appeared on the catwalks for Gucci, Kloss was invited by Paris and walked in October for Alexander McQueen, Valentino, Chloé and Viktor&Rolf.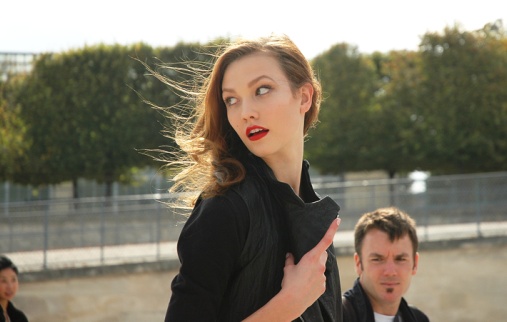 Nothing more was needed for Style.com to call her a rising star, confirmed by Teen Vogue who had her appear in four consecutive issues. The big photographers gradually became interested in her, and ended up falling under the charm of this adolescent capable of infinite expressions.
Mario Sorrenti photographed her for Nina Ricci before Steven Meisel immortalized her for Pringle of Scotland. Meanwhile, Kloss landed her first important contract by becoming the face of See by Chloé.
In early 2008, Kloss decided to quit Elite to sign with Next. several months later, Elite accused Next of "stealing" Kloss away.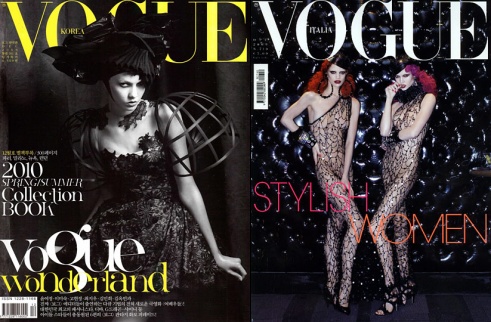 Kloss, whose life had taken on the appearance of a fashion road movie, did not spend much time thinking about such details. She was requested for all the shows and photo sessions for Vogue Italy, Vogue Japan, Muse, Numéro, and W, among others.
Despite all this activity, Kloss did not forget her studies. She continued her classes by correspondence and was often seen studying her notes backstage while her colleagues sent text messages on their Iphones.
Not everything was coming up roses for the one some called "the zombie" in reference to her walk, however. She suffered from eating disorders and was hospitalized several times. Neither healthy nor natural, Kloss' extreme thinness did not prevent her from being in high demand, e.g., for the Chloé fall 2009 campaign.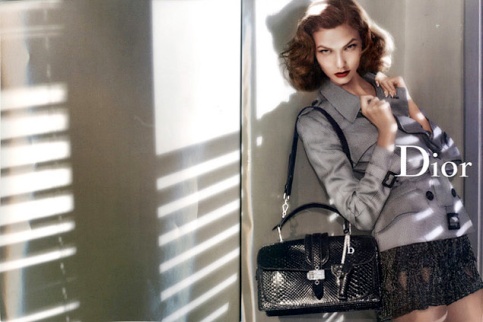 Many are those who praise Kloss' extraordinary presence, professionalism and kindness. It is true that at 17, Kloss is not yet an adult. She can play Lauren Bacall for the Dior ads and a pretty nymphet for Hermès, but she still remains an adolescent.
Whereas her colleagues bring their boyfriends backstage during the shows, Kloss brings her family who serve as her chaperon. While the others are drinking coffee, she orders a hot chocolate. She has only just received her driver's license, and as final proof of her childhood, still considers the family house in Saint Louis as home despite owning her own apartment.
Kloss travels over 250,000 km in 2009 by plane, was named the 7th best-paid model in the world, and dreams of stealing Tom Brady from Gisèle Bündchen.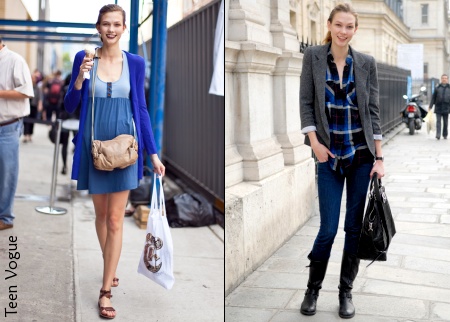 As overloaded, hectic and organized as her life is, Kloss found the time to start the "Karlie Kloss Cares" foundation whose goal is to give money to causes important to her. She said that her role model was Christy Turlington whom she admires for her many diverse engagements. She has also said that she plans to study medicine in order to be useful once her modeling career is over.
Given her success, Kloss may have to wait awhile before dedicating herself to her charity works. Recently, she appeared in no less than 5 different Condé Nast publications, posing for Steven Meisel and Patrick Demarchelier.
By Coco in
Models