After having revealed the talents of Kirsten Dunst and making Scarlett Johansson into an international star, Sofia Coppola has turned her attention to a young actress just as blonde and mischievous as her former muses: Elle Fanning.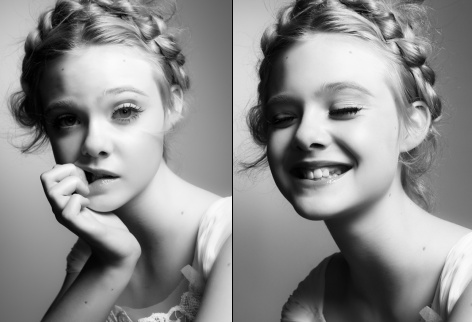 Given the careers of those who have preceded her in front of Coppola's camera, it is easy to assume that Fanning will soon be receiving top Hollywood honors. With her disarming personality, little girl physique and solid experience in the business, the young adolescent has an irreproachable pedigree.
Everything began very early for Fanning who was not yet two when her family moved to California to facilitate her older sister Dakota's budding career. At only 18 months, she took her first steps in the movies in the film I am Sam where she played Dakota's character young. She repeated the experience a few months later for the series, Taken.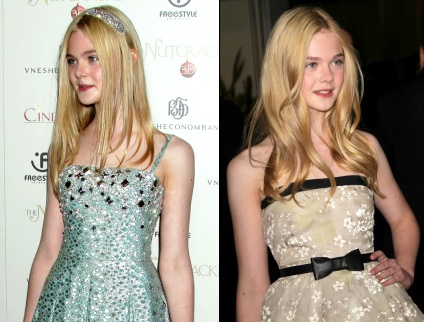 Her irresistible face soon had her landing roles on her own. At barely 5, she was appearing in series such as Judging Amy and CSI, and in films alongside the crème de la crème of American actors. Her big screen partners include Sean Penn, Brad Pitt (The Curious Case of Benjamin Button) and Joaquin Phoenix (Reservation Road)... an enviable resume.
At the same time, Miss Fanning leads a relatively normal life. When she is not being tutored by her grandmother (until 2007), or taking piano or intensive dance lessons, she loves to eat frozen yogurt and dress up as Marilyn Monroe for Halloween.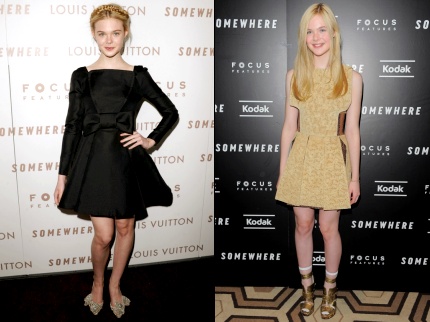 Her entrance into the exclusive circle of Sofia Coppola icons - she plays one of the lead roles in the film Somewhere, Golden Lion winner at the 67th Venice Film Festival, could very well change her young life. The young apprentice ballerina may soon find herself in high demand, by directors as well as by the luxury industry.
A single glance at how she wears Valentino, Rodarte or Azzaro with certain freshness is enough to see in her a future couture house darling. Between the designer labels that she wears so honestly and the 100% teenage outfits that she shows up in on a daily basis, Coppola's newest favorite seems to be immunized against fashion faux pas.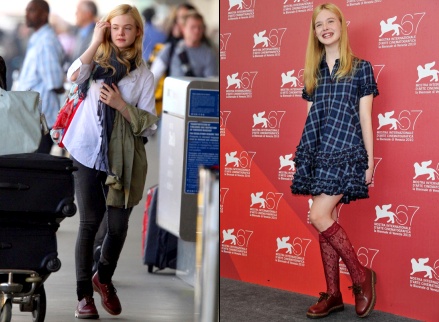 However, when asked by the journalists what her fashion tastes are, she responds like an adolescent (and not like a little Style.com-trained monkey). She admits that she often wears jeans, appreciates Marc Jacobs -- simply because she has already worn one of his outfits, adores dresses from the 50s (they remind her of her idol, Marilyn Monroe) and loves going through her sister Dakota's closet...
Elle Fanning's career, already well on its way, seems to be only beginning. We can simply hope that the young mademoiselle will succeed in preserving her youthful joie de vivre that makes up such a large part of her charm.
By Coco in
Icons