The drop in temperature may have obliged us to leave our boy blazers in the closet, but it is still possible to maintain an androgynous allure. Some overcoats this season should be able to perfectly fill the position of the boyfriend coat.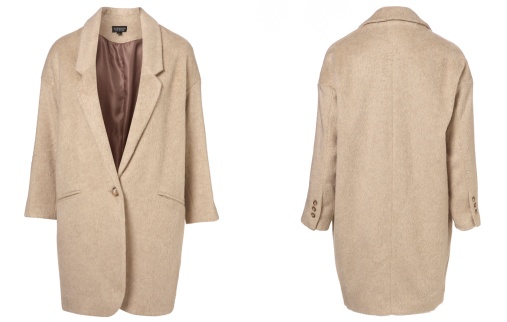 Found at the always-inspired Topshop, this overcoat with its slightly sloping shoulders, shortened sleeves and cozy mohair has what it takes in its soft masculinity and in the many looks it proposes. With its generously open collar, numerous material and color contrasts are possible: it can be worn over a ski sweater, for example, whose rustic aspect will give a nice twist to the overcoat's classic beige.
In other words, whereas the majority of overcoats are worn buttoned up to the top (completely covering what is worn underneath), this Topshop model offers the possibility of revealing shirts and sweaters, and creating mix-and-matches capable of boosting the allure of those who choose Topshop chic over Moncler comfort.
As for the ¾ length sleeves, they also call to mind several interesting associations, such as emphasizing them with a pair of well-chosen gloves, which will in turn perfectly complete the overall look of the overcoat. Long leather gloves in bordeaux très Lauren Bacall (with the coat sleeves rolled up to the elbows), or the biker mittens that have recently made a comeback, or gloves with a low-cut wrist (particularly the Grace model by Causse) can all be paired with the coat.
Finally, the coat's soft mohair will make it easy to add it to our winter wardrobes - under the condition that it is matched with a few warm accessories, e.g., an opulent snood or a showy fake fur cap.

Boyfriend coat, £95 (111 euros) at Topshop:
http://www.topshop.com/productId=2151254
By Coco in
Shopping