Have the Jimmy Choo for H&M collection sequined brogues started a new trend? With the support of the fashionistas, they seem to have inspired other designers to take the concept even further...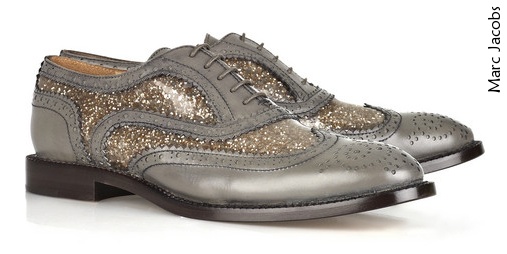 A masculine shoe if there ever was one, the brogue has been winning over young women looking for a tomboy look for several seasons now. Most often worn with a ¾ pant, it gives a touch of that famous "Michael Jackson spirit" with a preppy twist, perfect for giving a boost to a nondescript outfit. However, it seems that the more extravagant fashionista was not quite satisfied with it in its classic form.
All that was needed was for Christian Louboutin to create a studded version or for Tamara Mellon to offer a snake skin/rhinestone version for H&M for success to come knocking. In other words, even if women are ready to trade in their pumps for a pair of oxfords à la Dan Draper, they would nevertheless appreciate even more the fancier versions offered by Church.
The "masculine ergonomics + touch of humor" equation seems to be riding high more than ever. Some designers, e.g., Marc Jacobs and Miuccia Prada, have even injected a strong dose of sequins into their derbies and brogues.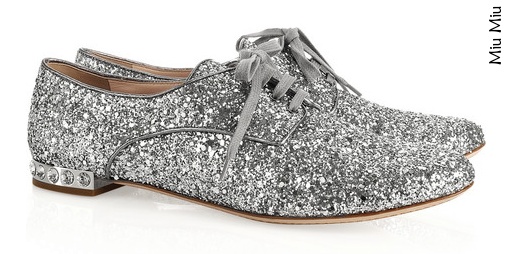 While they might not be revolutionary, these little footwear baubles have to be credited with giving us the ability to brighten up our winter ensembles. Far from being limited to the dance floor, this shoe style can also very well be worn during daylight hours.
For example, they can be worn with a car coat, leather mini, opaque tights, a thin sweatshirt and a denim shirt; or with a prewashed denim ¾ jean, a thin belt, short loose pullover and a broadcloth overcoat with raglan sleeves.
Also, Urban Outfitters is offering a pair of glitter jazz shoes that should do just fine, and at a very affordable price...
By Coco in
Trends