Alongside her more dreamlike creations, Delfina Delettrez is now offering a jewelry line perfect for the tomboy summer to come. Here we find what we will need to go masculine with humor and elegance.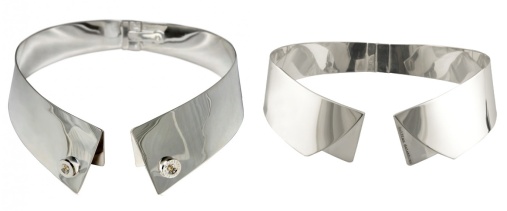 Since last October's fashion weeks, in particular the spring/summer 2011 Balenciaga show, the tomboy allure has never looked so good.
With his shirtfront blouses, silver-pointed collars and Creepers, Nicolas Ghesquière swept away the new-bourgeois inclinations of today's fashion, making room for an androgyonous silhouette with a rebel attitude. In 2007, Ghesquière made the keffiyeh the accessory of the year; so when he proposes that we adopt a look more masculine than 50s, we would do well to trust him.
Playing on gender confusion and reinterpreting the different components of the masculine uniform with refinement, the "We-Man" jewelry collection by Miss Delettrez Fendi is in perfect step with the times. Her baubles, e.g.,
bowtie bracelets
,
costume cufflinks
, and
trompe-l'oeil shirtfronts
, would make any of us want to play with cross-dressing.
If we had to choose one piece from the "We-Man" collection, it would undoubtedly be the silver shirt collars. With their ultra-tomboy design with a dandy touch, they are sure to give a good dose of character to our little black dresses, loose-fitting t-shirts, and round-necked pullovers.

Priced from 450 euros (Opening Ceremony) to 1225 euros (Luisaviaroma)
By Coco in
Shopping