In the big game of fashion musical chairs, the spring/summer 2011 winner may very well be Raf Simons for Jil Sander. His variations on color blocking on an oversized minimalist foundation has what it takes to win over the young women who want upbeat cleanliness, as recently illustrated by the radiant Drew Barrymore.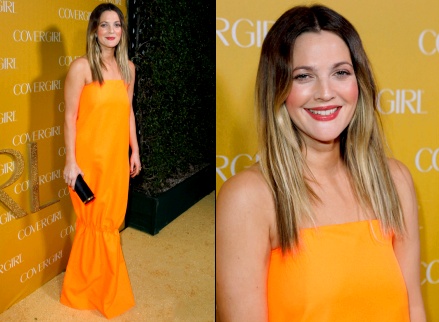 Outside of representing an en vogue fashion house or playing flag-bearer for a future trend, the stars do not have many opportunities to find themselves dressed in head-to-toe orange for a hype Hollywood soiree. With the exception of Reese Witherspoon (who shined on the Golden Globes 2007 red carpet in a canary yellow ensemble by Olivier Theyskens), rare are those who dare to wear unusual colors for an official appearance.
However, for Barrymore, all the prerequisites seem to be there, from the announced arrival of the color block trend to the sharp minimalism of her Jil Sander dress (from the famous spring/summer 2011 collection that drove all the fashion editors crazy with envy). It would have been an error for her not to give this style a try...
Without meaning to, she gave a promotional boost to a more upbeat trend, which should give a shot of energy to a fashion world that is often too conventional. Other actresses inspired by Barrymore may also start appearing in audacious colors (instead of the traditional, chic sheath and little black dresses) that can be found this season at Jil Sander and Prada.
By Coco in
News