In an era where slims, jeggings and boyfriends rule the world of denim, finding a pair of flares can prove to be more than a challenge. However, given the new 70s trend, they should soon be taking over the streets once again.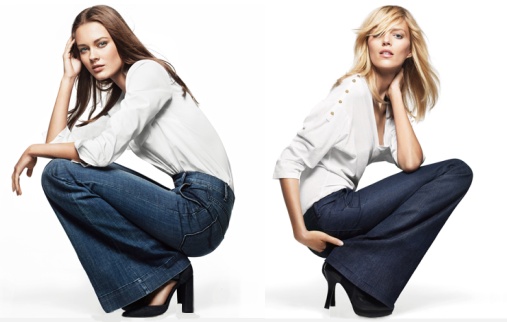 Perceived in last winter's Balmain, Chloé and Gucci shows and reconfirmed during the recent Marc Jacobs, Just Cavalli and Derek Lam presentations, the 70s comeback can no longer go unnoticed. When a style has been promoted for two consecutive seasons, it is rare that the fast fashion radars do not pick it up. Now, it should only be a question of weeks before the trend materializes on the racks of Zara et al.
This season, Gap is the one to start the party, democratizing the 70s allure with a line of accessible denims that would make any disco queen happy. Whereas designer prices are soaring, (Gap designer) Patrick Robinson is offering a panel of bellbottom jeans for about 60 euros that should make it possible for a good number of fashionistas to try on the Farrah Fawcett look. Offered in several colors and lengths, they could easily win over the young women searching for an alternative to their undying skinnies.
Worn casual chic (as illustrated in the campaign with Anja Rubik and Monika Jagaciak), preppy or effortless, these denims could easily become one of next summer's basics.

Gap 1969 site: http://www.gap1969.com/
By Coco in
News