Following Sean Lennon, Mark Ronson and Jamie Hince, it is now Erin Wasson's turn to strike a pose for the French brand, Zadig&Voltaire.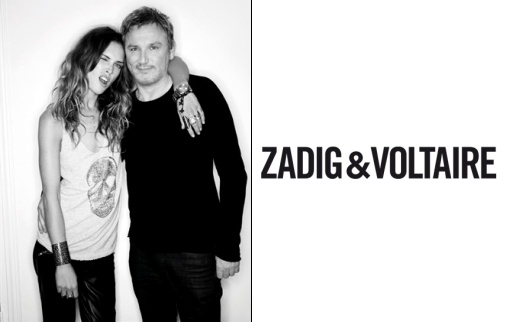 Similar to The Kooples ad campaigns, those by Zadig&Voltaire generally tend to portray couples rather than soloist icons. Their singer/muse duo model (as seen here and here) has led to some of the hype crowd recently appearing on the brand's images, giving it an almost credible rock aura.
For the upcoming season, Zadig&Voltaire's communication policy has evolved. Rather than pick from among the hype music scene headliners, this time they have gone over to the modeling side to make their choice. Even so, it would be out of the question for the brand to associate itself with a mademoiselle completely void of any rebel character, given that for the last several seasons, Thierry Gillier has been going for a pseudo rock aura with a touch of transgression.
Taking that into consideration, who better than the Texan skater Erin Wasson, top model and icon, to fill the role? With her street girl look, slender silhouette, and her background somewhat richer than the majority of her colleagues, this young woman should be able to give the brand good visibility.
Even more fitting is that she will not just be the Zadig&Voltaire girl. The former designer of "Erin Wasson x RVCA" will also attempt to polish her reputation as a designer by creating a capsule collection for the Parisian brand. Hopefully, it will succeed in surpassing the rock clichés that the brand likes so much - e.g., rhinestone skulls - and develop a less superficial style in which quality and creativity will come together.
By Coco in
News